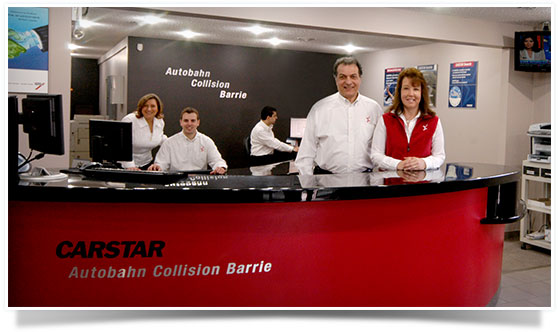 Customer Service
Customer service is not a department, it's an attitude.
At Autobahn CARSTAR Barrie our focus on Customer Service and Quality of Service is the base of our foundation. We know that an accident can be a frustrating experience. At Autobahn we try to eliminate that frustration from the moment we hear from you. Whether it is the need of a tow truck at the scene of your accident, dealing with your insurance adjuster, or picking you up when your repairs are completed, we always strive to serve you better. Never hesitate to ask questions as we will always help to find you a solution.
Quality of Service
Customer Service needs to be backed up by the Quality of Service. We are always taking measures to keep up with the ever-changing automotive industry, from the latest in equipment and communication tools to continuous updates and staff training, as well as detailed checklists that are completed by each department. The implementation of systems with our dedicated staff ensures that quality repairs are completed to industry standards.
Services provided:
- Insurance Claims Assistance
- Auto Body Repairs
- Free Estimates
- Air Miles reward miles
- Car Rental Service
- Shuttle Service
- 24/7 Towing Service
- Glass Replacement
- Auto Detailing
- Auto Accessories
- Online Tracking
- Mechanical
Payment options:
- American Express
- VISA
- Interac
- MasterCard
- Cash
- Sorry, no cheques